CBL Solid-lubricating And Maintenance-free Sliding Bearings
CBL-FU Powder Metallurgy Oil-retaining Bearing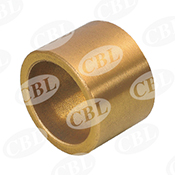 Application Characteristics
CBL-FU1 its copper oil-retaining bearing, bronze powder in zion as raw material, through the mould pressing, sintering temperature after in plastic. It is fine, the matrix of the pore, oil vacuum macerate formed after oil. This product has the short-term oil lubrication, using low cost, can change od characteristics, such as low speed, suitable for use of load. The products have been widely applied in household motor, electric tools, textiles machinery, chemical machinery, automobile industry and office equipment etc.
Application Characteristics
CBL-FU2 iron-based oil bearing has several advantages, such as high production efficiency, less processing time, cost-efficient, and less wear and tear. With the general method of manufacturing machining parts, material utilization can be 40-50% or even lower, while the powder metallurgy method of material utilization uses up to 95% and in many cases can be used instead of iron-based powder metallurgy copper alloy sleeve bushings , thus saving a lot of non-ferrous metals, and the production of products, parts, steady performance, wear resistance, high precision, and other parts made of metal cutting method has obvious economic benefits.